We supply a lever arch file module to make you files stay neat and tidy.
Lever Arch File Module
If your lever arch files don't stay upright, you need to think about lever arch file storage.
Call 0161 429 8118 For Help Or Click Here To Buy Online 
Construction
The lever arch file module is made from heavyweight corrugated cardboard and printed grey and black.  The modules can be stacked up to four units high, giving lever arch file storage for 24 lever arch files in a space of 559x285mm.  The modules also have handles built in for easy transportation.
Assembly
To assemble the lever arch file modules takes less than 3 minutes once you have mastered the sequence in which it has to be done.  The lever arch file storage units come in 6 parts that includes an outer shell and 5 dividers.  The shell must be assembled first, and then each of the dividers can be inserted.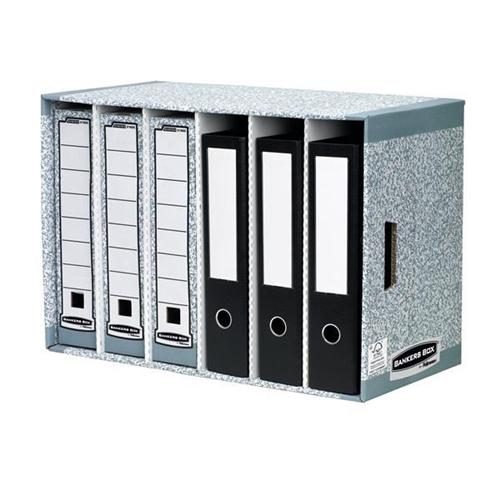 Overall Size
The overall size of the module is 559x285x368mm, which means that if stacked 4 high reach a height of 1472mm.  The height of each lever arch module is 368mm and that is sufficient to accommodate both A4 and foolscap lever arch files.
Pack Size
The lever arch file module is sold in a pack of 6. This gives enough space for up to 36 A4 or foolscap lever arch files.
Local Delivery
We can deliver your lever arch modules the next day across the UK using a network of delivery services.  If you are based in Manchester, we can deliver the same day using our own vehicles and delivery staff.