Buy The Oki 44064012 Black Drum Unit Today
Buy the Oki 44064012 black drum unit from your local supplier.  We also supply the cyan, magenta and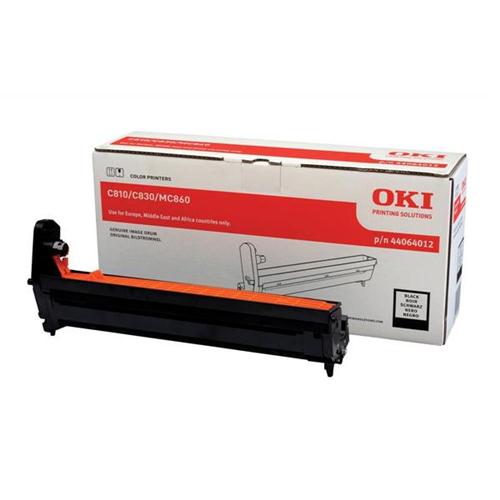 yellow drum units in addition to the black drum.
Oki 44064012 Black Drum
Manufacturer: Oki
Model: 44064012
Other references: 878813
Capacity: 20,000 prints
Type of Cartridge: Drum unit
Print Colour: Black
Compatible or Genuine: Genuine Oki Unit
Compatible Machines: C810, C830, MC860, MC861, M851, C801, C821
Drum Units In The Oki C810 Range:
44064011 cyan drum unit, 20,000 page yield
44064010 magenta drum unit, 20,000 page yield
44064009 yellow drum unit, 20,000 page yield
Toners Cartridges For Oki C810 Range
44643004 toner cartridge, black – 7,000 pages
44643007 toner cartridge, cyan – 7,300 page
44643006 toner cartridge, magenta – 7,300 page
44643005 toner cartridge, yellow – 7,300 page
Delivery of Oki Toner Supplies
Octopus supply the Oki 44064012 black drum unit for the C810, C830, MC860, MC861, MC851, C801 & C821 printers.  If you struggle to find the toner that you need, please call us, as we are more than happy to help.
We offer fast and free delivery of Oki printer supplies all over Greater Manchester from our store in Stockport. Delivery across the UK mainland is available next day if ordered before 4pm.
Like this Article? Subscribe to Our Feed!
There are no comments yet, add one below.